Head and Neck Cancer: An Emerging Men's Health Epidemic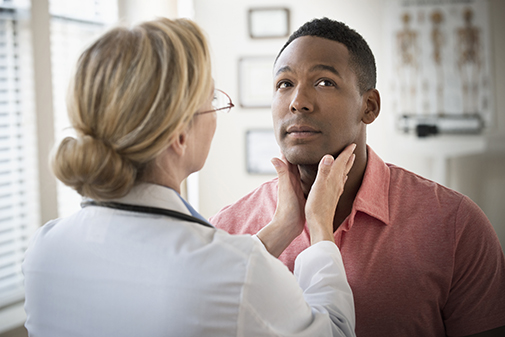 Historically, the most important risk factors for head and neck cancer — which can strike anywhere from the lips to the larynx, and up into the sinuses and nasal cavity — consisted of alcohol use, tobacco use (including smokeless tobacco), poor oral hygiene and missing teeth. But, in recent years, the profile of a head and neck cancer patient has been changing.
"When I was training, the traditional risk factors for head and neck cancer were tobacco and alcohol," says Julie Bauman, MD, MPH, University of Arizona Cancer Center division chief of hematology and oncology, and a specialist in head and neck cancers.
"Now, the biggest driver is HPV — human papillomavirus," says Margaret Eller, RN, UA Cancer Center head and neck nurse navigator. "This is a new population of nonsmokers that we are seeing in our clinics."
Although HPV is most noted for causing cervical cancer, currently the virus causes an increasing proportion of head and neck cancers. HPV-associated cancers are most likely to strike a part of the body called the oropharynx, which is the opening of the throat behind the oral cavity. Oropharyngeal cancer is four times as common in men as in women, and a study published in 2016 estimated that HPV causes 12,638 annual cases of oropharyngeal cancer among males, compared to 3,100 among females.
"There is an epidemic of throat cancer in men caused by HPV," says Dr. Bauman. "Suddenly, my clinic has been populated largely with men who find themselves with head and neck cancer, despite not having very significant tobacco or alcohol exposure."
Data show that as smoking decreases in popularity, head and neck cancers caused by tobacco are also on the decline. However, among men, the incidence of HPV-associated head and neck cancers is increasing. HPV can be transmitted by any sexual activity involving skin-to-skin contact. It is sometimes called the "common cold" of sexually transmitted diseases, because nearly every sexually active person will be infected with the virus at some point in their lives — that is, unless they are vaccinated against it.
An HPV vaccine has been available since 2006, and the current version protects against seven cancer-causing viral strains. Today's head and neck cancer epidemic underscores the need to vaccinate pre-teens and adolescents against this common virus. While the FDA has not yet approved the vaccine for prevention of head and neck cancer, that could change as scientists continue to collect data — and, in any case, widespread vaccination can reduce HPV prevalence at the population level, making people less likely to acquire oral infections in the first place.
"The recognition that there is an epidemic of preventable cancer has been fascinating," says Dr. Bauman. "Educating parents, teenagers and college students about the risk of HPV-related cancers and the vaccine that protects them is critical."
Unfortunately, HPV vaccination rates are low in the United States. In 2016, only 49 percent of 13- to 17-year-olds received two or more doses of the vaccine, while 86 percent of adolescents without previous exposure to the chickenpox virus had received at least two doses of that vaccine. Stigma related to teenage sexual activity, as well as general fears surrounding vaccination, could be responsible.
"People are not receiving accurate information about this vaccination," says Eller. "There is a lot of stuff going around the internet that's so false and so fake."
To fight HPV-associated cancers, vaccination rates need to increase — among girls as well as boys.
"It's largely thought of as a girls' vaccine," says Dr. Bauman. "However, I do see an uptick in vaccination in boys. That's exciting to see. But that's only in certain areas. This is important to administer across the state."