The All of Us Research Program – Powering the Future of Precision Medicine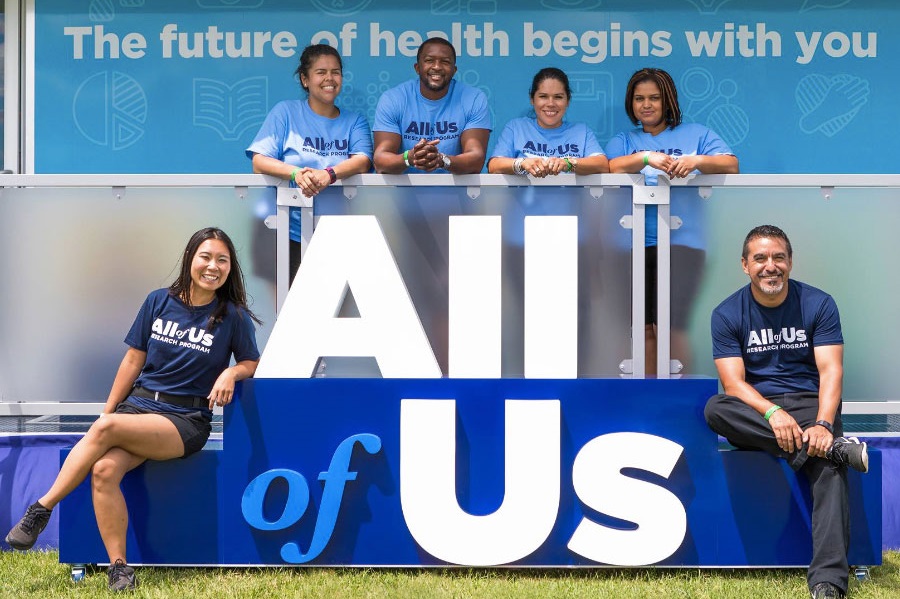 There is power in numbers. When a researcher is studying the causes of a human disease, the more people involved in the study, the greater the probability that the study will generate useful results. With this in mind, the National Institutes of Health launched the All of Us Research Project with the goal of partnering with more than 1 million participants across the United States to advance precision medicine
Precision medicine is health care tailored to each individual person. Instead of the "one size fits all approach" often used in the medical setting, practitioners can use precision medicine to develop treatment and prevention strategies that work for a specific individual at a specific time. Precision medicine looks at a person's unique environment, lifestyle, and biological makeup, including genes, to guide decisions that work best for the health of the individual.
Genetic testing for breast cancer illustrates how precision medicine can greatly benefit patients in the clinic. For most women, the risk of developing breast cancer at some point during their life is about 12%. However, certain inherited changes in the genes BRCA1 and BRCA2 can substantially increase the risk of breast, and other forms of cancer. For women with a personal or family history of cancer, especially cancers of the breast and ovary, genetic testing can help identify variants in the BRCA1 or BRCA2 genes. This information can help clinicians optimize strategies to identify cancer at an early stage, or even help prevent it in the first place.
In many areas of health care, precision medicine is already making an impact on people's lives. From identifying genetic mutations that drive lung cancer to preventing life-threatening medication side effects, precision medicine is quickly becoming a central part of health care in many fields of medicine.
However, we still have a lot to learn about the countless ways that our genes, environment and lifestyle interact to create our own specific health profile, and continued research in this field is important to make precision medicine a reality in every day practice. This is where projects like the All of Us Research Program can make a huge difference.


The All of Us Research Program is a national project bringing together more than 1 million people from all walks of life and from all regions across the nation to share their health data and biological samples to contribute to the future of health care. Data that All of Us participants share with the program will be part of a large, secure database, to create an invaluable resource for researchers and health care professionals across the country.
On July 6, 2016 the partnership between the University of Arizona and Banner Health was named as one of the first four health care provider organizations for the All of Us Research Program. UA and Banner have been enrolling participants in the study throughout the Tucson and Phoenix areas during the beta, or "stress-testing," phase of the program.
"The All of Us program will power the future of precision medicine throughout the country and here in Arizona," says Akinlolu Ojo, MD, MPH, PhD, MBA, principal investigator for the UA- Banner Health All of Us Research Program and associate vice president for clinical research and global health initiatives at the UA Health Sciences. "Researchers will be able to use the data that our participants share with the program to better understand the causes, prevention and treatment of many diseases that affect people throughout our community, like cancer, heart disease, and more. This vast resource that we are creating with All of Us will be one of the most important tools that researchers will use to uncover the ways that our unique genetics, environment, and lifestyle contribute to our overall health."
What makes the All of Us program unique is two-fold: the large number of participants that it will enroll and its dedication to engaging participants that reflect the diversity of the United States. These commitments to scale and diversity will give researchers the power they need to make discoveries about human health across all groups of people.
"The All of Us Research Program is a unique opportunity to build bridges between the community, in its broadest sense, and the systems of education, academia, and health care. Such bridges are essential to improve individual health outcomes and social determinants of health. Engagement and retention efforts require unique tools, and we are fortunate to have in our Program the depth of expertise to make this goal a reality," says Irma Ramos, MD, director of the division of community engagement and education at the UA Health Sciences Center for Applied Genetics and Genomic Medicine and director of the Promotoras for the All of Us program, a unique and culturally conscious approach to increase precision medicine literacy and recruitment, particularly among underserved and marginalized populations.
The All of Us Research Program will be fully launching across the nation on May 6th. If you would like to learn more about how you can become "One in a Million" with All of Us, please visit https://allofusaz.org/ or call 877-268-2684. 
Photo credits National Institutes of Health.