The University of Arizona College of Nursing is continuing its commitment to integrative health through its new Bachelor of Science in Nursing pathway devoted to blending conventional health care with complementary approaches to mind-body-spirit wellbeing.
With an expected enrollment of 72 students in its first year, the program is projected to have a total enrollment of 216 students by its third year.
"We are excited to launch our new BSN integrative health program," said UArizona Nursing Dean Ida "Ki" Moore, PhD, RN, FAAN. "This will be the first nursing program nationally to incorporate integrative health content and interventions into a BSN program. We will use state-of-the art simulation to help students master clinical skills and innovative technology to deliver course content as we prepare the next generation of professional nurses."
A blend of online and traditional classroom learning, the four-semester, upper-division BSN-IH program differs from the conventional BSN pathway in that it focuses on integrative health and wellbeing assessment and promotion. Offering an alternative to traditional biomedical and pharmacological options, integrative health promotes a healing-oriented, whole-person approach to health care.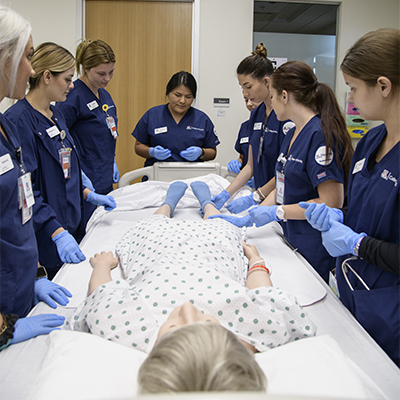 Conditions are clinically treated through a variety of methods, including lifestyle enhancement, nutrition and appropriate biomedical therapies.
The BSN-IH program will help enrolled students obtain the education and experiences they need to become successful registered nurses with a focus on integrative management of chronic conditions and serious illnesses. The program also includes a nursing simulation suite designed to replicate a hospital patient-care setting.
"This new BSN-IH program is unique in highlighting nurses' role in leading integrative health care to consider whole person/whole system, relationship-based and person-centered approaches to care," said Connie Miller, DNP, chair, the Division of General Nursing and Health Education. "Online courses, complemented by face-to-face skills development and maximized simulated learning experiences, will take full advantage of this wonderful simulation suite."
UArizona Health Sciences has outlined a set of mission-critical priorities, which include "future-proofing" its graduates, preparing them to lead and work with interdisciplinary teams to improve care.
The BSN-IH program is the logical next step for UArizona Nursing's focus on integrative health, which has developed strong academic and community ties through its landmark Integrative Nursing Fellowship and its partnership with The Hacienda at the River, a senior residential community in Tucson.
"This innovative BSN-IH degree program is another example of this university's commitment to create world-class programs and curricula, while leveraging our vast expertise to make a healthy difference in the world around us," said Michael D. Dake, MD, senior vice president, UArizona Health Sciences.