How Mentorship Makes Research Happen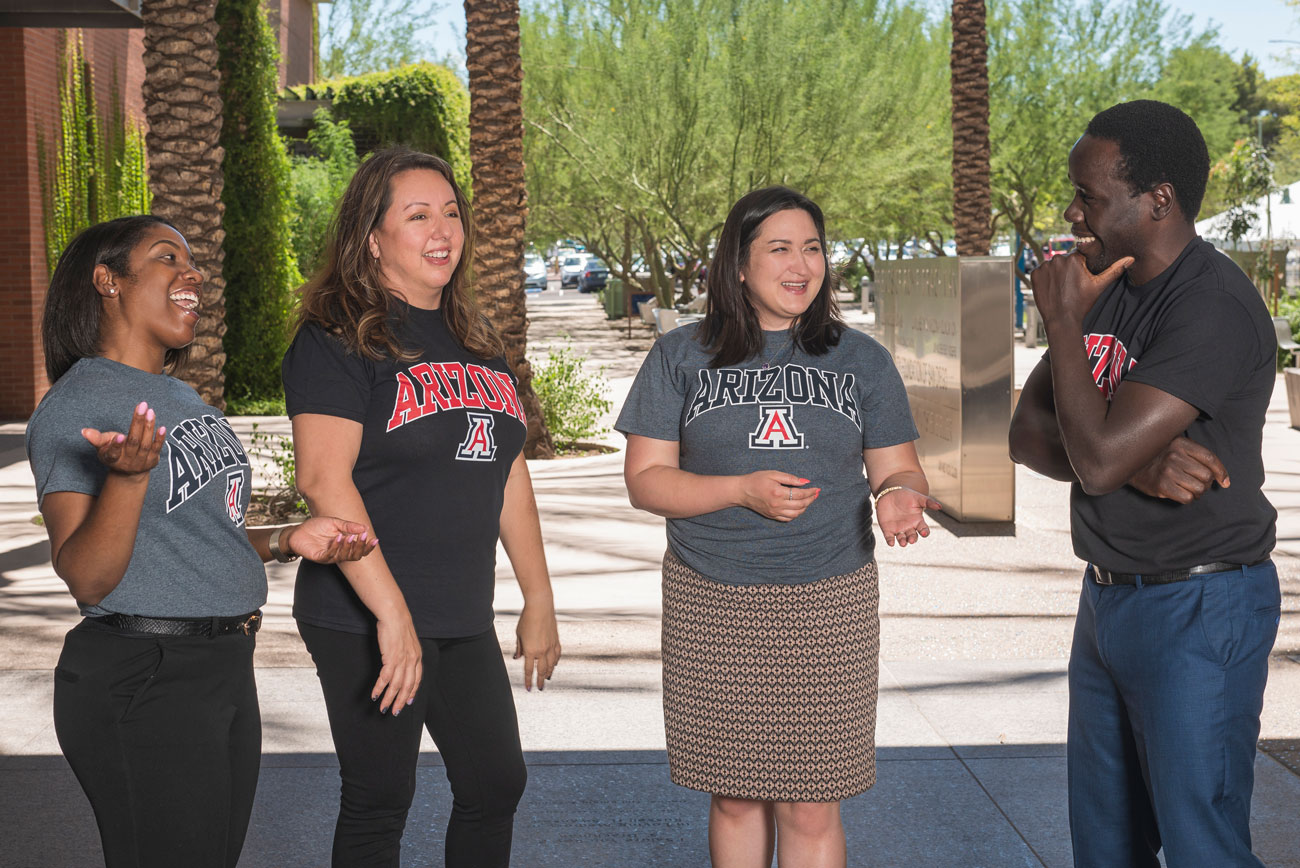 I often look out at the Santa Catalina Mountains from my office window for perspective and to hit the internal "reset" button. I'm a new faculty member as of July 2021 in the Mel and Enid Zuckerman College of Public Health, and it's too easy to feel defeated when I hit a seeming dead end in the community-based research process. 
The support of mentors and colleagues is instrumental in overcoming my research hurdles. They guide me when I need it most and remind me of the importance of perseverance and empathy, where community partnership is a work focus. 
COVID-19 and the cleaning industry 
For the past year, I've participated in the Programs to Increase Diversity among Individuals Engaged in Health-Related Research (AZ-PRIDE) Advanced Respiratory Research for Equity (AiRE)  program through the University of Arizona Health Sciences. It aims to support junior investigators underrepresented in biomedical research as they start their careers. 
As a part of the program, we each have a small research project. Mine is focused on people in the cleaning industry and their exposures to cleaning and disinfection chemicals during COVID-19. 
This research project was motivated  by my previous research in which we estimated COVID-19 risks from contaminated surfaces. Our work informed a Centers for Disease Control and Prevention (CDC) scientific report  in which the CDC reported low risks from contaminated surfaces. As I was reading more about the potential dangers of cleaning and disinfection exposures, I found a lot of literature describing associations with asthma. 
This raised the question that I wanted to answer with my AiRE project: "Are these increased cleaning and disinfection efforts coming at a high cost for a very minimal risk reduction return?" 
My goal in answering this question is to learn about the challenges people in the cleaning industry face with changing cleaning and disinfection protocols and areas for improvement to protect workers' respiratory health. 
In the AiRE program, you are paired with mentors to help you design and execute your small research project. I was paired with Paloma Beamer, PhD,  my University of Arizona Health Sciences Career Development Award mentor. Lynn Gerald, PhD, MSPH, a mentor through the program and my award, also acted as a mentor to answer questions and help overcome recruitment challenges. 
Encouragement with every phone call and email 
The most challenging part of this project has been finding community partners willing to let me recruit employees from their businesses, a common challenge in occupational health research. Every step along this path, my mentors were there to commiserate or share in my joy.
My project involves getting answers from people in the cleaning industry through anonymous surveys and interviews. I started by reaching out to health care facilities, but they were overwhelmed with COVID-19 at the time. My mentors had a great alternative idea: approaching a facilities management organization; however, I was met with resistance as there were workers' compensation concerns.  
They then suggested perhaps taking an online approach, using Facebook groups of janitors and custodial workers. Unfortunately, I ran into an issue where an individual appeared to be taking my survey multiple times with many different email addresses, making the data unreliable. After consulting with my mentors again, they advised me to reach out to schools and maid service companies. 
Twenty cold calls and many emails later, I found some businesses that were interested in participating. They expressed a commitment to their employees' health and hoped to increase employee retention. 
As access to technology for an online survey was uncertain for this population, businesses told me that participation would be easiest with English and Spanish hard copy surveys. Dr. Beamer co-leads the  Southwest Environmental Health Sciences Implementation Resource for Translational and Human Exposure Research (IRTH),  and I got help translating my materials into Spanish. 
After several trips to the post office and over 400 stamps and 150 envelopes later, I hand-delivered the materials and written instructions for employers and employees. 
I checked the mailbox obsessively. Finally, a few days later, I got two surveys in the mail; I was ecstatic. It's working! I immediately emailed my mentors, who responded with lots of exclamation points. It felt good to have them cheering me along. 
Sixty surveys and counting 
I hit many, many roadblocks along the way. But now, I am getting interesting data that I hope will lead to improvements in cleaning and disinfection protocols. 
I have received roughly 60 surveys. This may seem like a small sample size, but I am happy. Given the recruitment challenges for this type of study during a pandemic, it's a big achievement and a high response rate. In addition, this population includes many underrepresented minority community members who have had few opportunities to participate in research. 
My next steps are to finish analyzing the data I've gathered, work with my mentors to develop summaries of the findings, and provide guidance on how to minimize exposures to cleaning and disinfection chemicals. 
With wisdom from my mentors and colleagues, I know I can continue to improve the impact of my work and better navigate relationships with community partners in my public health research career.