Meet a Doctoral Student Researching Treatments for Brain Disorders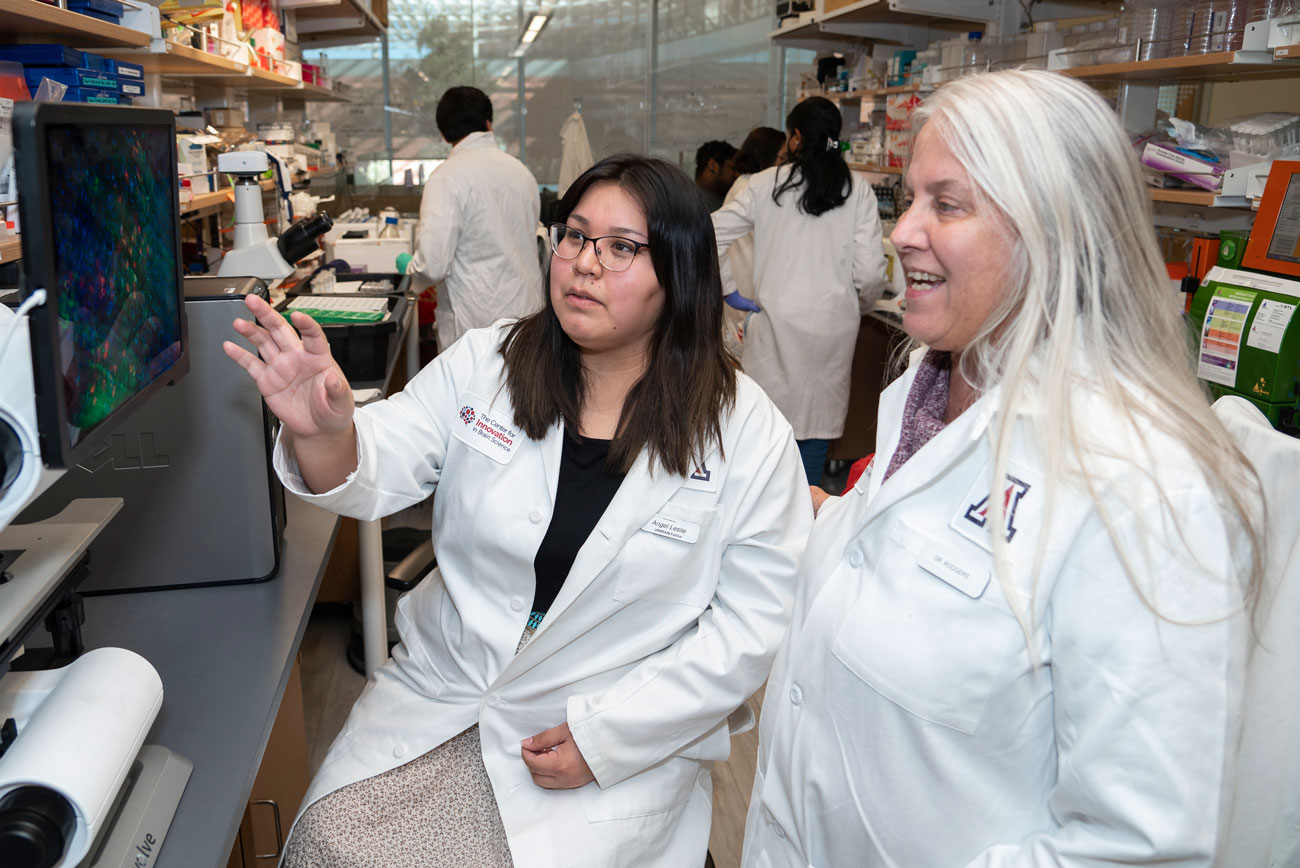 Introductions in the Navajo culture include names and clan affiliations. Can you share yours and what it means to you?
Ya'at'eeh shi ei Angel Leslie yinishye. Todichinii nishli, Tabaahi ei bashishchiin, Totsohnii da shiceii, dibe łizhini ei dashinali. 
Hello, my name is Angel Leslie. I am Bitter Water born for the Water's Edge. My maternal grandfather was Big Water and my paternal grandfather was Black Sheep.
When I was young, my grandmother told me that before the Bitter Water people were named, the first man of the clan was searching for a source of water. He found a spot in the earth that he dug into to find moisture. Then, he strained the water from the earth and used it to hydrate himself. It was bitter. This is how the name of the clan Bitter Water came about.
I loved this story as a child. As an adult, I think it speaks to the kind of person I strive to be: creative, intelligent, resilient and a bit humorous. I like to think I embody all these qualities.
What was your childhood like?
When I was really young, I lived with my grandmother and great aunts in Chinle, Arizona. My grandmother had 10 sisters and two brothers, all sheep herders and farmers.
I moved around a lot – from Chinle, to Window Rock, to Holbrook then to Gallup, New Mexico. The constants in my life were family and nature. I love interacting with animals and plants, a result of my grandmother's influence on me and her love for agriculture, farming and botany.
How did you become interested in science?
When I was in elementary school, my oldest brother developed epilepsy. I was with him the first time he had a seizure. That's when we started going to doctor's appointments and neurology exams. It had a really big impact on me. I decided then that I wanted to do something in the science field.
I enrolled at Diné College, first to study environmental science, but eventually I switched to biology, anatomy and other sciences that focused on humans.
What prompted you to further focus your studies?
In 2020, my brother had a grand mal seizure and passed away suddenly. He did a lot for me when I was younger, and I was really grateful to him. Having someone like that taken away was life changing.
I was pretty sure at that point I wanted to go into medicine or do something where I could help people.
How did you become connected with the University of Arizona Health Sciences?
The year my brother passed, I also got into the Undergraduate Readying for Burgeoning Research for American Indian Neuroscientists (URBRAIN) program at the University of Arizona Health Sciences Center for Innovation in Brain Science. The program has a partnership with Diné College, where I was a student.
I began working in Dr. Kathleen Rodgers' lab on her research related to amyotrophic lateral sclerosis, or ALS. In addition to the work in the lab, we learned presentation skills and I got to know the university and its resources.
Dr. Rodgers and my mentor, David Bradford, a graduate student in the lab, were very supportive. They helped me academically, emotionally and structurally, continuing to guide me all the way into graduate school where I am today. I am very grateful for both of them.

Tell us about your doctoral program.
I am currently in the PhD program in medical pharmacology at the College of Medicine – Tucson, which is four to five years long.
I study how treatments affect different diseases. Right now, I'm focusing on neurodegenerative diseases, studying treatments for ALS and continuing to work in Dr. Rodgers' lab. The program is fast paced and requires a lot of studying, but it is fun, and I am learning so much.
Your 4-year old daughter is with you in Tucson. What has that been like?
My daughter is Bitter Water born for the Aniwaya Cherokee clan. Her grandfathers are Water's Edge and Irish. She is the greatest thing about me. She's at a stage where she's very curious and energetic. That's what I need when I get home after a long day, because sometimes I want to sleep or be in my own thoughts. She pulls me out of it and she helps me remain focused on my goal. It's just me and her living in Tucson.
What would you like to do with your degree?
There is a very well-known philosophy on the Navajo Nation: as you go out, you learn as much as you can, and then you bring it back. You always help your family, your community and your people. That's really what I want to do. I would like to work with the Navajo Nation, helping as many people as I can while teaching and encouraging others.