Meet a Navajo Student Advancing Indigenous Rights Around Research Data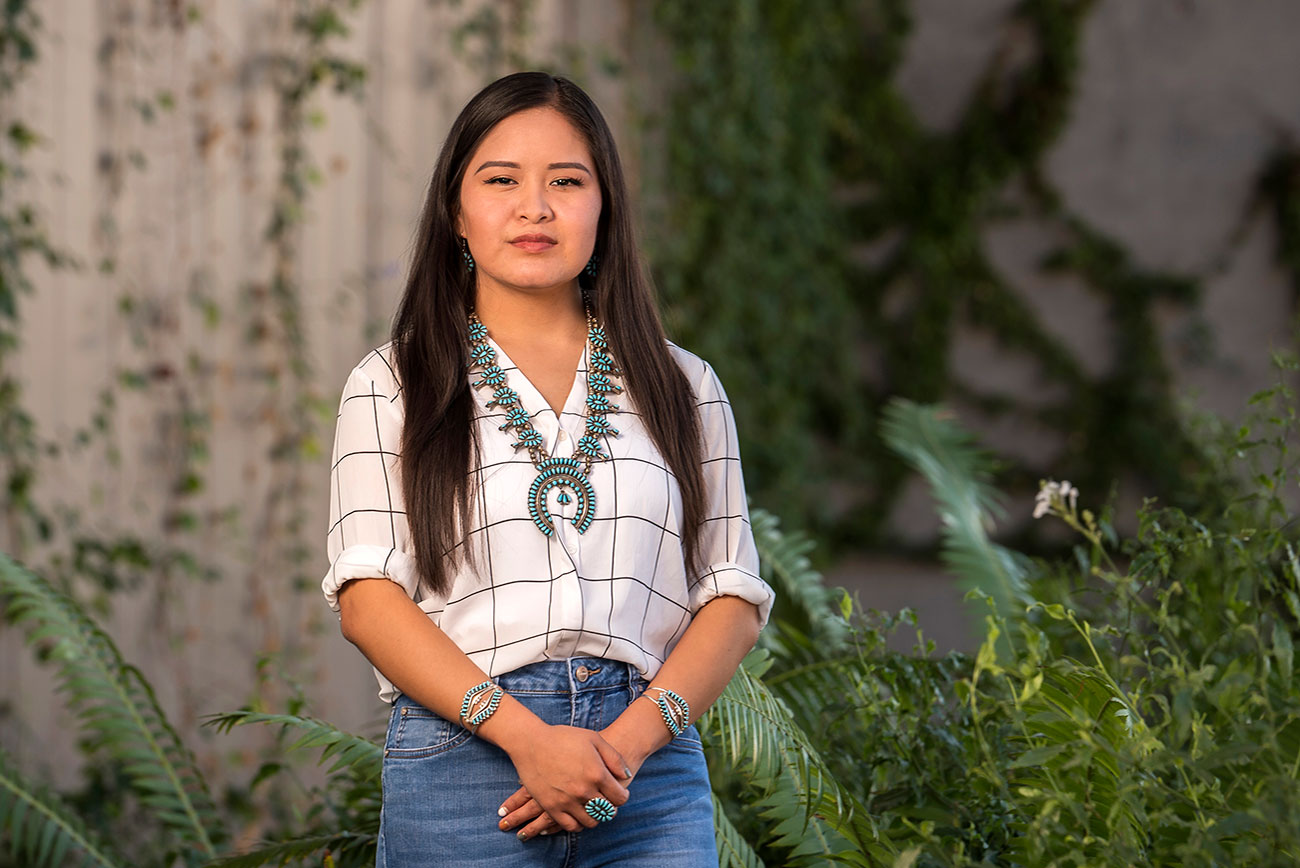 My name is Dynnika Tso, and I am originally from Cameron, Arizona. I am a fourth-year undergraduate first-generation student at the University of Arizona Health Sciences. I am majoring in public health with an emphasis in environmental and occupational health.
I am Navajo, and I hope to pursue a medical career within Native American communities with a background in environmental health science research and public health.
Could you talk about your Indigenous heritage?
I was raised on the Navajo reservation in a traditional Navajo hogan – an earthen home – without access to electricity or running water. I was influenced by the traditional stories and teachings of the traditional healers in my family, which allowed me to understand the interrelationship we have with the land, water, and the plant and animal relatives (as we like to refer to them) as it relates to the people and their overall health.
My cultural background and the relationship I have with my community reflect the work I hope to continue in relation to the environmental health sciences, medical sciences and public health research.
How does your culture influence you?
My cultural upbringing influenced my work and educational career in ways that allowed me to take the initiative to help better my community. I have always felt an attachment to the health care issues around my community, including the different health inequities, disparities and social impacts.
As a student in science, technology, engineering and math (STEM) with a background in clinical research and Indigenous data sovereignty projects, I am inspired to contribute to my community in aligninment with my cultural knowledge.
What do you do at the University of Arizona Health Sciences?
I am a research assistant with the Collaboratory for Indigenous Data Governance Research with Dr. Stephanie Carroll Russo (Athna) and Dr. Ibrahim Garba (Karai-Karai) in collaboration with the Native Nations Institute.
The research project I work on applies an Indigenous data governance framework for advancing university policies and improving STEM research practices in context with the CANZUS countries (Canada, Australia, New Zealand and the United States). As a research assistant, I analyze tribal research codes and follow a comparative document analysis process for the beginning stage of the project.
How does it relate to data sovereignty?
The research project focuses on advancing Indigenous data sovereignty and governance, as it pertains to asserting Indigenous rights and advocating for decision-making to occur with Indigenous values and interests. In general, it promotes ethic infrastructure to uphold Indigenous rights.
What do you hope your work surrounding data sovereignty accomplishes?
I hope the work surrounding data sovereignty allows for improving ethical standards in research culture across STEM fields in universities (in relation with national and international entities) and within marginalized communities, in part for the rights and interests of Indigenous people collectively.